When the people behind Twelve Twelve, Nashville's new glass-encased luxury residential high-rise, asked Bynum Design and D.Luxe Home to stage one of their models, we didn't hesitate.
We were one of five local interior design teams picked to style a space in this statuesque 23-story building, made up of 286 units of posh living, including seven penthouses and two guest suites—all punctuated by breathtaking views. Our unit was a canvas we were beyond excited to paint—literally and figuratively. We were able to choose flooring and wall coverings, window coverings, paint colors and many fixtures, and to furnish it exactly the way we wanted. We were even kindly allowed to do some additional construction on the unit to better suit our vision.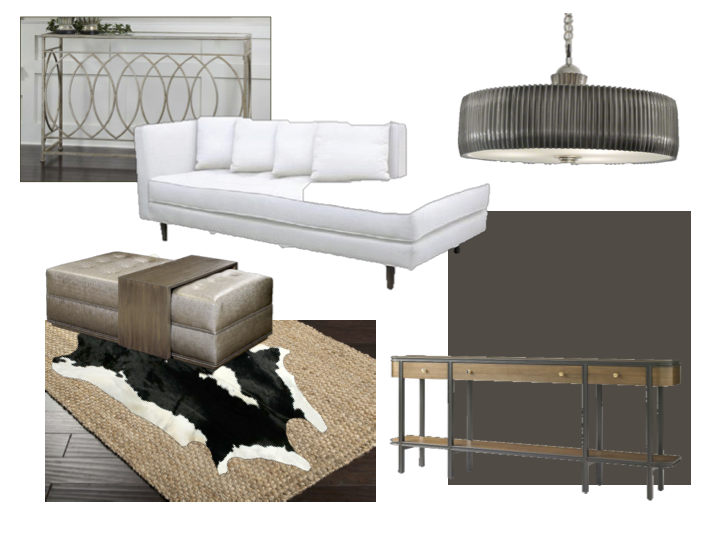 Our strategy was to decorate our unit exactly as we would if we were going to move into it ourselves. We also aimed to mirror the sexy sophistication and detail of this magnificent building's exterior in its interior. And finally, while the temptation in a space with a view as sweeping as this one is to make it "all about the view," we understood that in reality people aren't going to be spending all of their time draped against the glass, gawking at the Nashville skyline. Instead, it was most important that the space be livable and comfortable and that the view serve as a backdrop instead of the focal point. So we placed a lot of furniture against the window wall and chose to make the focal points of the room be inward rather than outward.
While we put the finishing touches on our unit to get it photo-ready, we thought we'd share our inspiration boards with you.
Stay tuned and check back to the blog soon for the full reveal of our Twelve Twelve dwelling, plenty of details about the construction and design process and sources for some of our fabulous furniture and accessories. (Hint: You can find most of them at D.Luxe Home.)