This modern farmhouse stands proud in Nashville's 12South neighborhood where Paris Ave. meets 10th Ave. S. Inside are 3 bedrooms, 3 bathrooms, and 2,977 square feet spanning three charming levels.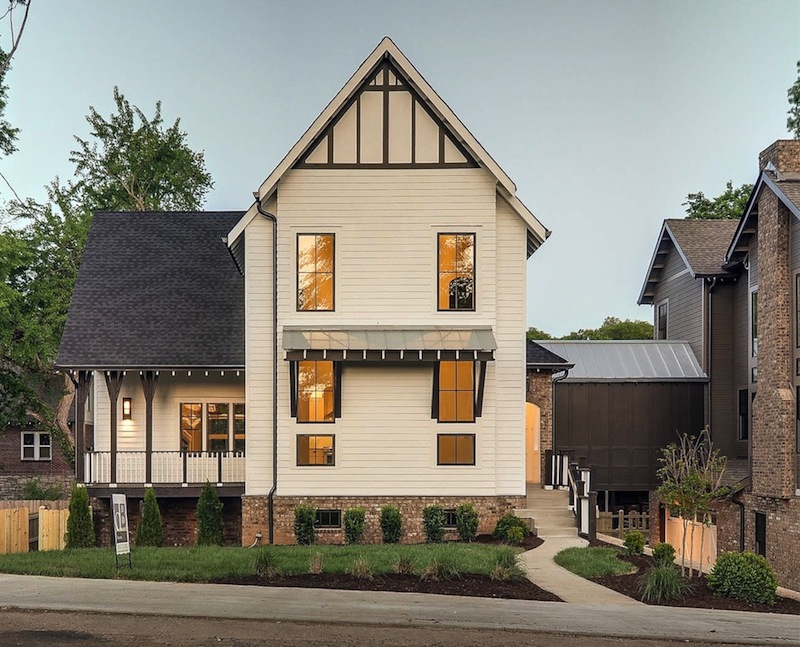 Impossibly adorable semi-newlyweds Chris and Lauren Whitsett both had big ideas about what they wanted from their first home. In their early thirties, the Whitsetts, now brand new parents to a bouncing baby boy, came to me looking to create a fabulous nest before starting a family. Chris works in web design (and is responsible for our beautiful site) and Lauren in healthcare. Both have exquisite taste. Both have great, big laughs. Both are things that made the process of building this home a true joy.
Another contributing factor to the ease with which we constructed 2900 10th Ave. S: The homeowners' tastes were blessedly in sync with mine. "We saw houses all over 12South that we really loved and had no idea that they were all built by the same exact guy," says Chris. "I found Dee on Facebook and realized that he did every single house that I'm obsessed with. I got his number and called him just because I just wanted to talk to him. It was almost like going to the Porsche dealership and pretending like you're going to buy a Porsche. You're not. You're just curious." Upon finding out that Lauren and Chris wanted a white house with dark floors, vaulted ceilings, and a cool industrial-slash-rustic vibe, I was equally as sold on them.
The Process: Lauren and Chris initially wanted to renovate a 12th South house into a farmhouse-style home. We spent a number of weekends ducking into potential fixer-uppers, running into several dead ends before getting the opportunity to buy the lot where their house sits now. Chris admits, "We could not visualize it at all. It just looked like this dumpy, overgrown, awful little mess of a yard. And it didn't look like much space either. But Dee was so excited about it and really sold us on it, especially when he started showing us the plans."
Together we developed a plan that the Whitsetts and I both loved. We didn't really treat this house like we do with most other custom clients; we treated it more like it was a spec house because what I wanted to provide and what the Whitsetts wanted were mirror images. This made the process the simplest thing. I always love seeing one of my houses go up, but the Whitsetts' excitement about the construction process was especially contagious. Every day Chris would take a picture from the same spot, which yielded this awesome time-lapse video:
What Stands Out: There are definitely some notables about 2900 10th Ave. S, including:
The garage door in the dining room… We hadn't done a roll-up garage door in a living space until the Whitsetts' house, and now it's become a staple at Bynum Design. They wanted to be able to walk out on their deck without going through a set of doors. They wanted it to feel more commercial, almost like you're in a restaurant. We liked the effect so much that we've been working lots of these garage doors into our clients' budgets. Now we do them all the time.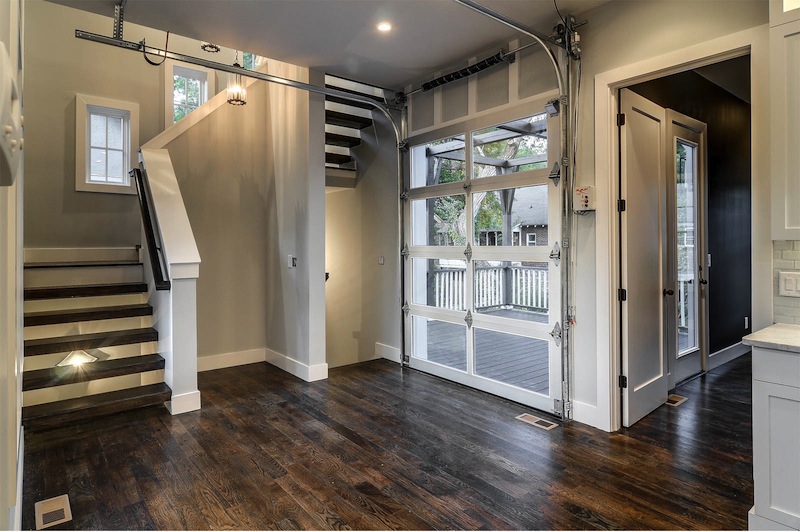 The lighting… We looked at lots of lighting for the Whitsetts, going together through manufacturer's catalogs and websites and assembling a collage mood board. In the Whitsetts' pantry there's a great example of how lighting can create texture; the light fixture is a wire mesh dome, and there's a clear bulb in it so it makes these killer patterns on the walls. It's a texture that you feel when you're in the kitchen that you wouldn't had you just stuck a regular old fixture there. The chandelier in their family room does the same thing; it's got long arms that reflect the lines on the tall surrounding walls. It's so sexy. It's worth noting that almost all the fixtures for our clients' homes now come from D. Luxe Home, my shop at Marathon Village.
Challenges Faced:  We almost always face obstacles that we didn't anticipate when building a house. During the year-long process of constructing their dream house, the Whitsetts had to camp out in an East Nashville condo owned by Lauren's parents, biding their time until move-in day. Other challenges included:
The size of the lot … The very narrow front-to-back footprint was not easy to work around because of the way it fell off. We had to apply for a variance at the Board of Zoning Appeals because there was an easement across the back of the lot. They basically had to grant us additional depth to be able to put a usable house on the lot. Putting a garage on the first floor became a logical approach, so we were able to put the garage on the basement level and the living space on the second and third levels and then grade the front yard up so that it felt like it was on the street instead of down in a hole. Then, really, the trick was creating another house to attach to it that didn't look just like it. Which leads us to …
The zero lot conundrum… At exactly the same time we had to build a house that conjoined with the Whitsetts. The connection for this type of structure is normally done on the main floor, but because we wanted to be able to park the cars in the garage beneath the house, we did the connector on the second floor. In other words, Lauren's delicious walk-in closet backs up to the other homeowner's laundry room. We also decided to paint the connector a different color than either house. I felt like that was the trick to make the connector seem to disappear; I think it worked so well.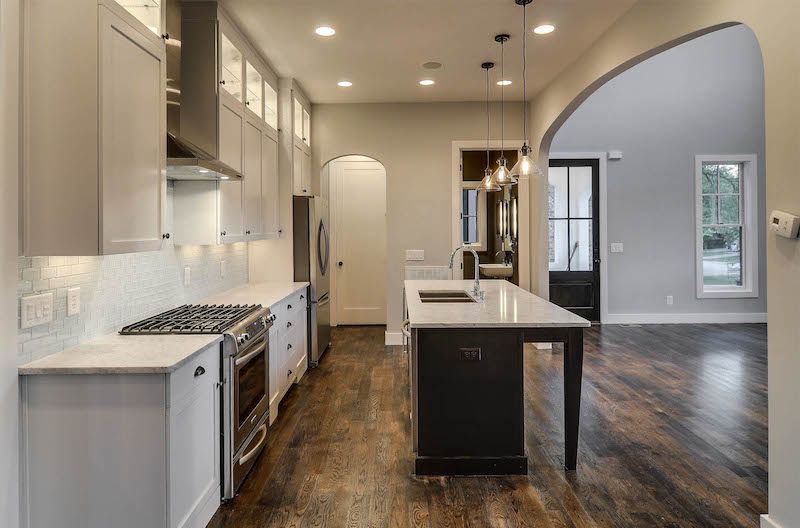 The Happily Ever After: 2900 10th Ave. S is not only beautiful but very functional. What the Whitsetts appreciate most about their home is the specific purpose that each room and floor serves. The bottom floor is home to the garage as well as a mudroom and bonus room, which doubles as an office and, one day soon, the perfect place for rowdy kiddo sleepovers. The middle floor joins a bright and open living area and kitchen with a cozy master suite, making it ground zero for Chris and Lauren and their visitors. The top floor holds two bedrooms and a jack-and-jill bath; this is where the Whitsetts' children will play and sleep. This house–every lovely square foot of it–is a testament to a shared vision from kindred spirits of design. It was a joy to conceive it, and I hope it will continue to be a joy for Chris and Lauren to live in it. –Dee Bynum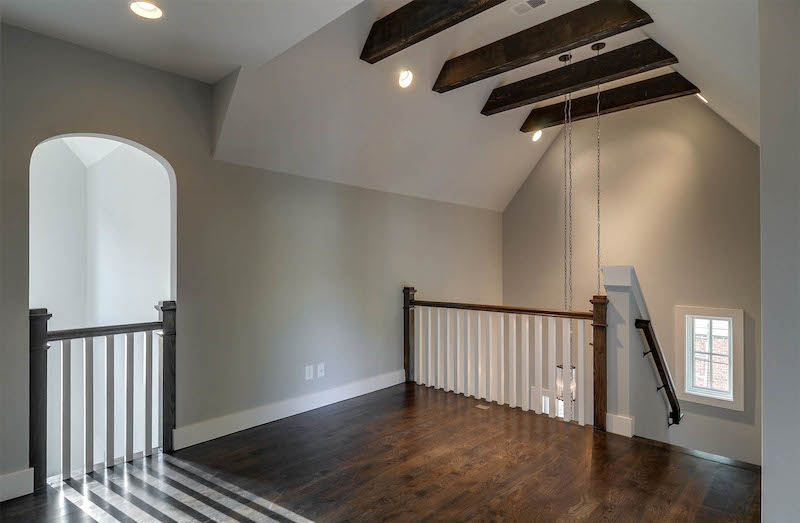 See more photos of 2900 10th Ave. S here.