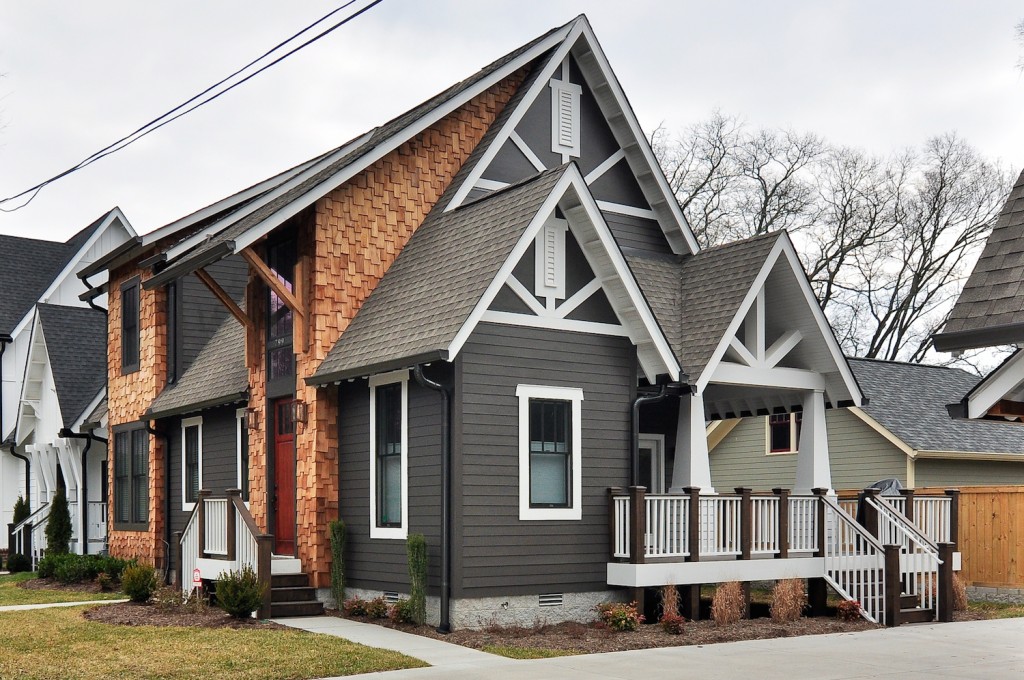 Earlier this year, we told the story of Gretel, one of the two 12South homes we built side by side in 2010, right as Bynum Residential Design was becoming Bynum Residential Design. Now it's time for Hansel's tale.
The Process: This house was one of the first houses to offer a different take on the "connector conundrum," which is how to put two beautiful houses on one very desirable Nashville lot and yet have the houses stand apart aesthetically. I had done two houses on one lot in other ways—for instance, on 10th Avenue and Gale Lane, but they were all connected, almost like an apartment building, and we weren't trying to make them different. This is the first time I really tried to change the language of two homes, in spite of their connector. So far as I know, all the builders that had built homes with a connector prior to this made them mirror images. This was a complicated but fun challenge, to come up with two entirely different floor plans and exteriors. But it was an important one for me. We set about creating a masculine and a feminine house. The one we're talking about in this post we called Hansel, and it was to be the man—the dark opposite to the light farmhouse, Gretel, we built next door.
What Stands Out:
Craftsman Style. Not so long ago, Vaulx Lane was one ugly place. I am very careful to preserve and respect the existing architecture and flow of our streets, but in this case I felt free to create a new language. For Hansel, I used Craftsman details like tapered columns, overlap trim pieces, a Craftsman front door, and modern Craftsman brackets. Even the windows on the garage door supported this Craftsman language.
The Trim. I loved playing with the trim on this house, inside and out. Of course, ordinarily the exterior trim would all be the same color, but instead I had some of it painted white (the same white as the Gretel house next door) and then used dark trim on the parts clad in shake siding. That's not a response that most people would have given it.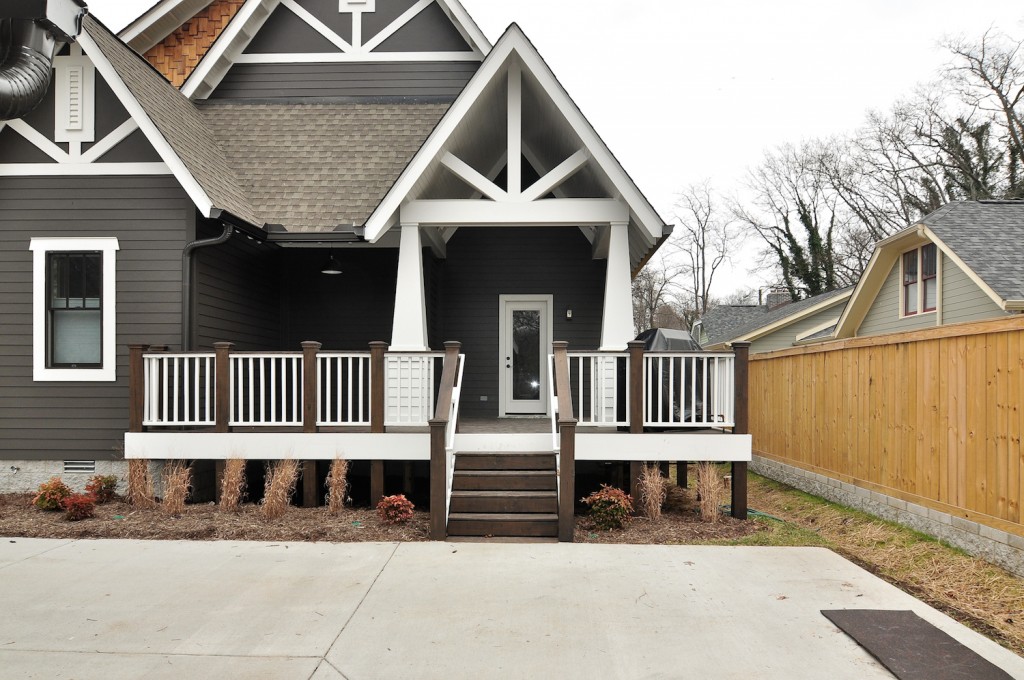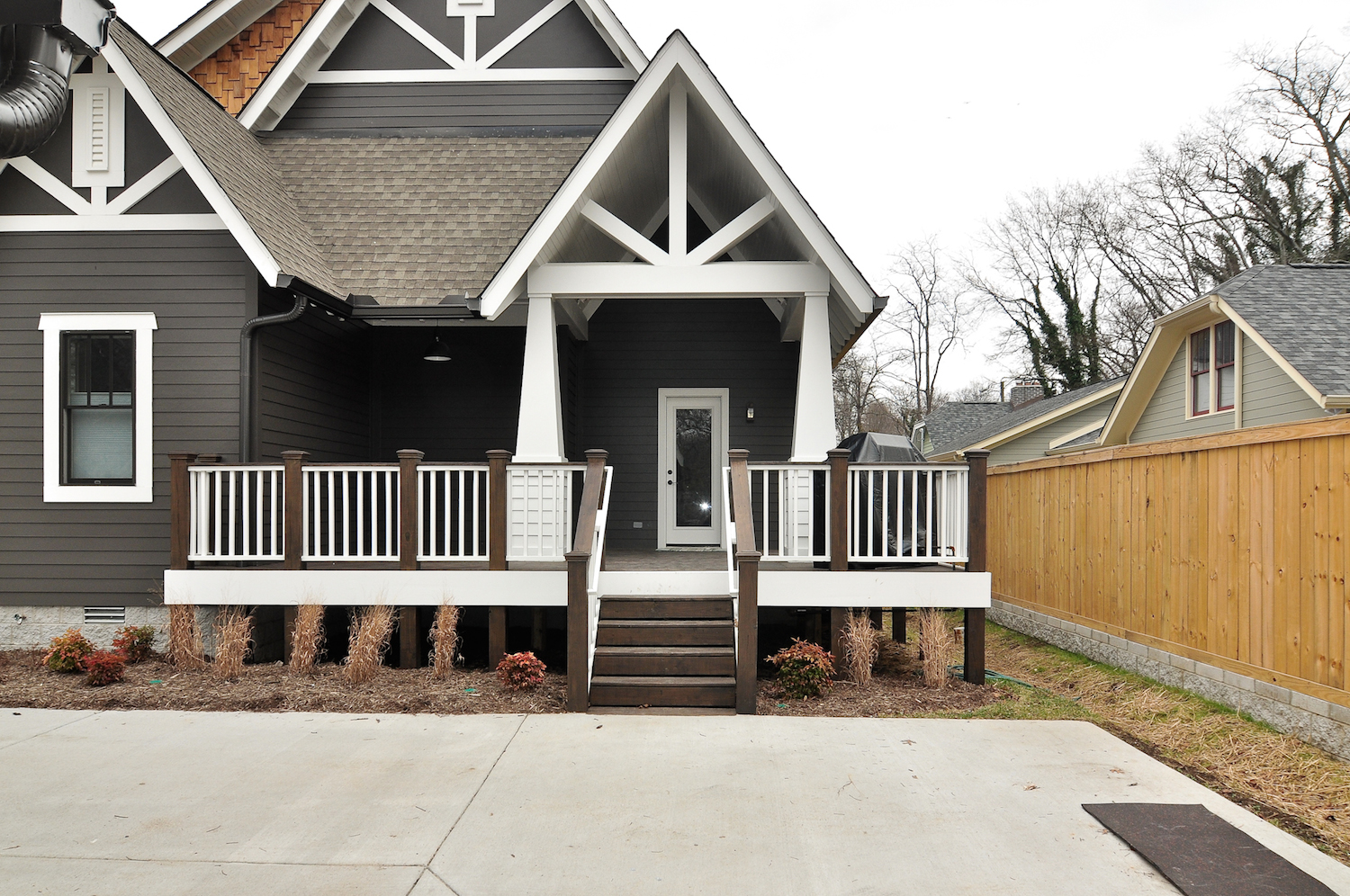 The Entrances. Honestly, the side of the house is a little more dramatic than the front. But this brings up an important point and reminds me of the conversation that we've had so many times with people who want to hire us to change their facades. Somebody will say, 'Can you come talk to us about just changing the front of our house?' And we tend to say, 'Well, the front of your house is no more or less important than the other three sides.' I think all four sides of a house should be equally addressed. So, for this house to have that kind of drama on the side is appropriate because of the approach to the house from the garage.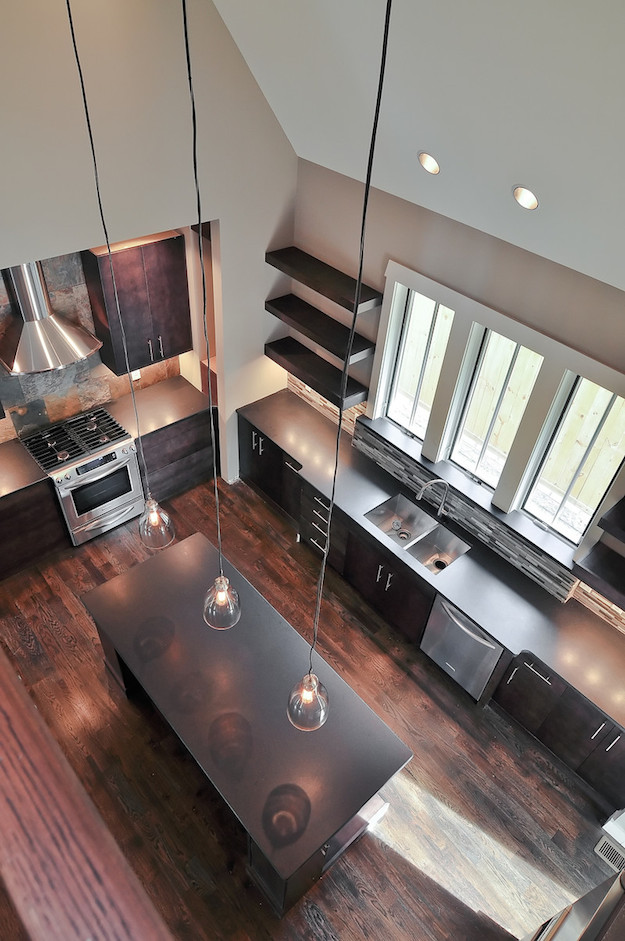 Dark and Dramatic Interior. This wasn't a super big house square-footage-wise, sitting at just over 2,000 square feet, but nonetheless the interior built a lot of drama. It's a two-story space with a bridge that spans above the kitchen. I'm also pleased with the beauty of the master bathroom and its relationship to the style of the rest of the house. And I thought the stairwell was especially pretty.
Challenges Faced:
Attractive Opposites. We were trying to make these houses opposites, but still complementary in a subtle way. The opposite of light is dark. The style of home is different, the colors are different, and the roofs are different: on one the shingle color is charcoal and on the other it's weathered wood. It was all about making them completely different houses—the antithesis of each other. This was even reflected in the landscaping—one had boxwoods and arborvitaes, and one had more of a Brentwood landscape. One was rolling, and one was flat. It was all part of trying to make them completely opposed.
Future Floods. The biggest challenge here was the site because, right before we began building, the Nashville Flood completely covered this area and left many nearby houses submerged. I didn't want anyone to ever have to deal with that again, so we took on a lot of infrastructure stuff here. On the Gretel side of the lot, we created almost a freeform drainage pattern, and put rocks in and planted grasses around it. On the Hansel side, we gave it a flat lawn and made it not-so-freeform, which meant we had to bury pipes and install french drains.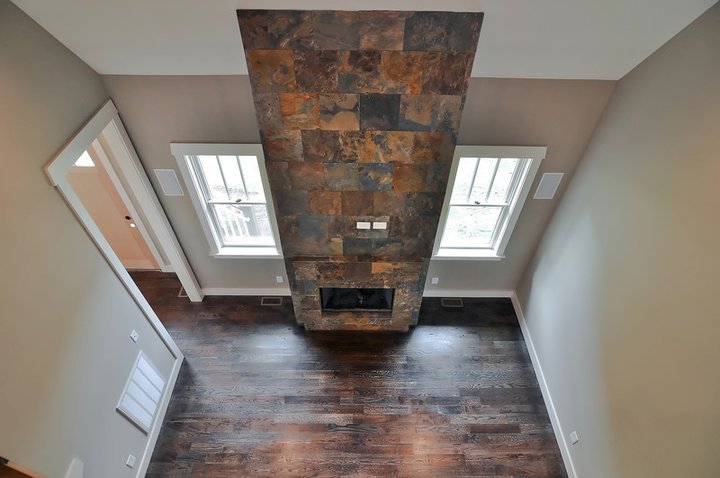 Apprehension. My biggest challenge was an emotional one. I wrote about this in the Gretel post, but I didn't know how people would respond to my work. It was scary to put this stuff out there and to see what people thought. It's baring my soul through construction.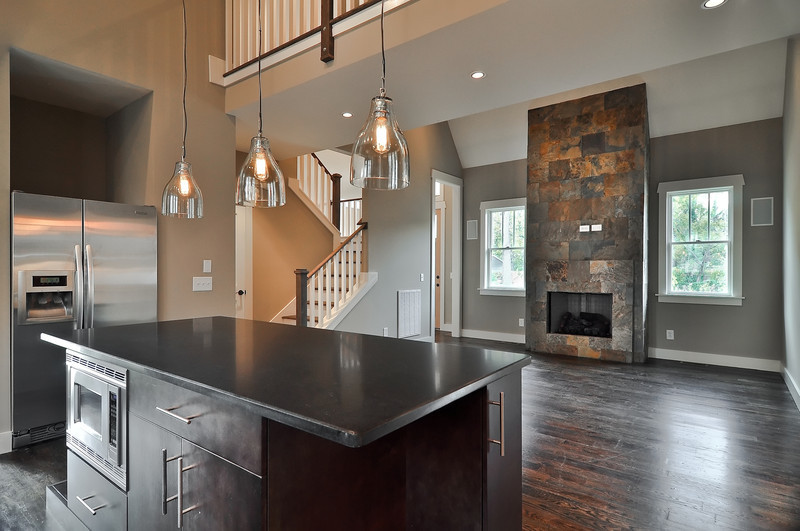 Happily Ever After. The response to Hansel and Gretel was reaffirming. And it's my hope that it helped establish a new way of thinking about the construction challenges posed by Nashville's connected homes. This home, and the one next to it, was a jumping off point for my career, and I still look back at it with pride.
See more photos of this home and other Bynum Residential Design homes on our Facebook page.