Because there are, of course, far more than 50 shades of gray, there's an art to picking just the right one. Here are five of my favorite gray hues–versatile neutrals that steer clear of drab or dreary undertones.

Pictured above is Sherwin Williams's "Argos" in a home we completed on Vaulx Lane
Gray is the new beige—although, for the record, I never did meet a beige I loved. Needless to say, I'm far more content to live and work within this particular color trend. More times than not I will slather the whole of an interior in gray.
I can't always find just the right words to explain why I love the paint colors I love. You have to experience a paint color to really know it, but you can trust that I've used the five following colors extensively with great results. A couple words of caution: If you choose to use more than one shade of gray in your home, as many people do these days, be very careful not to mix your cools and your warms. Cool grays will have a hint of blue, green, or purple, while warm grays have red, orange, or yellow undertones.
Also, you may want to take special care to sample gray shades before committing to a color because this color chameleon can easily go blue or green or purple or beige, which may be exactly what you're going for—or not. You want to avoid inadvertently painting yourself into a gloomy setting by choosing the wrong shade. One of the things I love about Sherwin Williams paints is that they make sampling colors so easy and provide large 8" X 11" color samples that you can hang on your wall before getting into a longterm relationship with a color.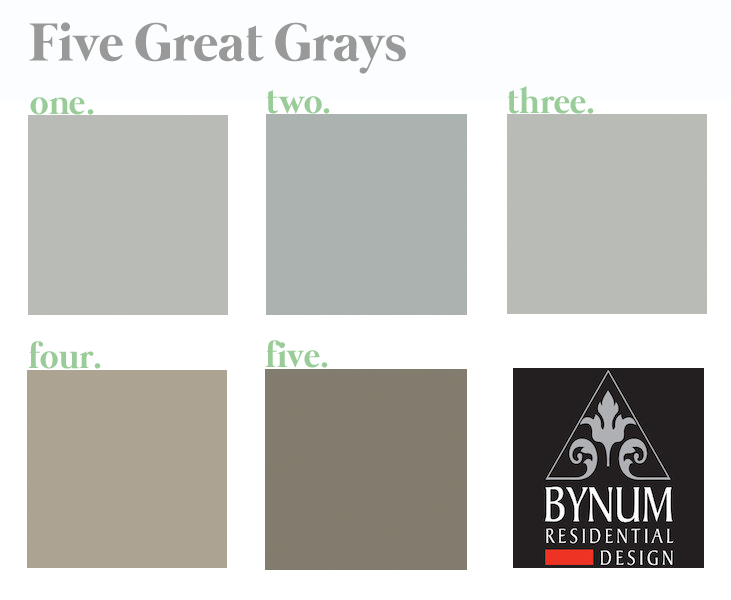 (1) BM Coventry Gray, (2) BM Boothbay Gray, (3) SW Argos, (4) SW Morris Room Grey, (5) SW Anonymous
one. Benjamin Moore Coventry Gray (HC-169). This cool gray has a beautiful blue undertone, and though it's part of the line's Historic Color collection, it looks decidedly modern in the spaces where I've used it.
two. Benjamin Moore Boothbay Gray (HC-165). Dusty and coastal-inspired, Boothbay is one of my go-to gray-with-a-tinge-of-blue colors. Fun fact: Jennifer Lopez's kitchen cabinets are painted this color.
three. Argos from Sherwin Williams (SW 7065). Another cool gray I love, Argos goes blue to silver to gray depending on the light and what's around it.
four. Morris Room Grey (SW 0037). – The first warm gray to make my list, Morris Room is my favorite greige shade, which occurs when you mix black into a warm gray. Greige is an especially popular color for kitchen cabinetry.
five. Anonymous Gray (SW 7047). – From its name you'd think this to be a nondescript color, but this warm gray has plenty of punch. Anonymous works great as an exterior color, too.
Other grays we love at Bynum Design: Sherwin Williams Gray Matters  (SW 7066) and Sherwin Williams Classic French Gray (SW 0077).
Looking for a dark paint color to contrast with your gray walls? Check out this blog post on my favorite dark paint colors. And give me any questions you have in the comments below.
 –Dee Bynum