This happy home in 12South at 925B Kirkwood Ave. is inspired by both the function and charm of a farmhouse and the elegance and composure of an old country church. Read about how it came to be.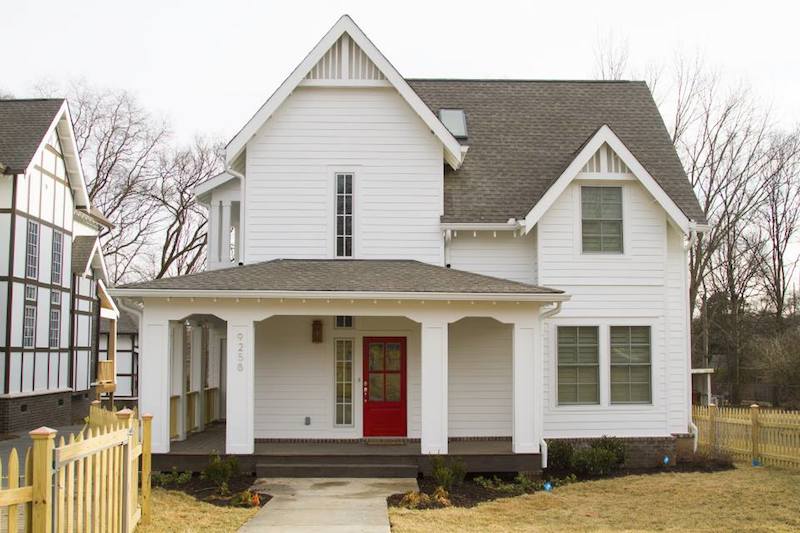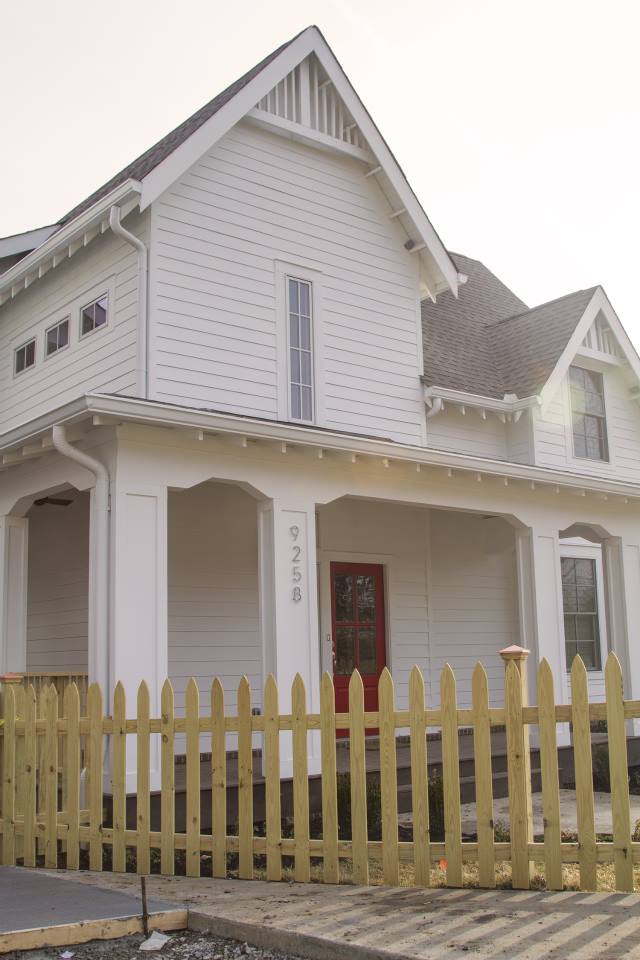 The Process: This house belongs to Pat and Ann Williams, a ridiculously awesome pair who we liked immediately and who we were certifiably in love with once we realized Ann's Pinterest board mirrored our own. Ann is from Northern California and founded Smart Sprouts (the extremely popular drop-in daycare in Green Hills that she's since shuttered), and Pat, a Nashville native, is in sales for a healthcare technology company. The two met at The Tin Roof while both were in grad school at Vandy; how "Nashville" is that?! Ann and Pat were some of the easiest, breeziest people we've ever worked with. After deciding they wanted one of our homes, they signed the contract for this place before we'd even leveled the ground.
What Stands Out:
Mixed metals. "Dee and I talked about doing mixed metals—brass mixed with stainless," says Ann, "and he loved that idea." We mixed metals in both the downstairs master bath and a guest bath, but they're perhaps most prominent in the kitchen, where a gorgeous brass accordion-style chandelier is suspended over the island. Meanwhile, the cabinets are outfitted with stainless steel hardware.
The red front door. If dark reds have too much blue in them they almost look purple. When picking out a red paint, I always go for the color of a red BMW. This one is Sherwin Williams's "Cherry Tomato."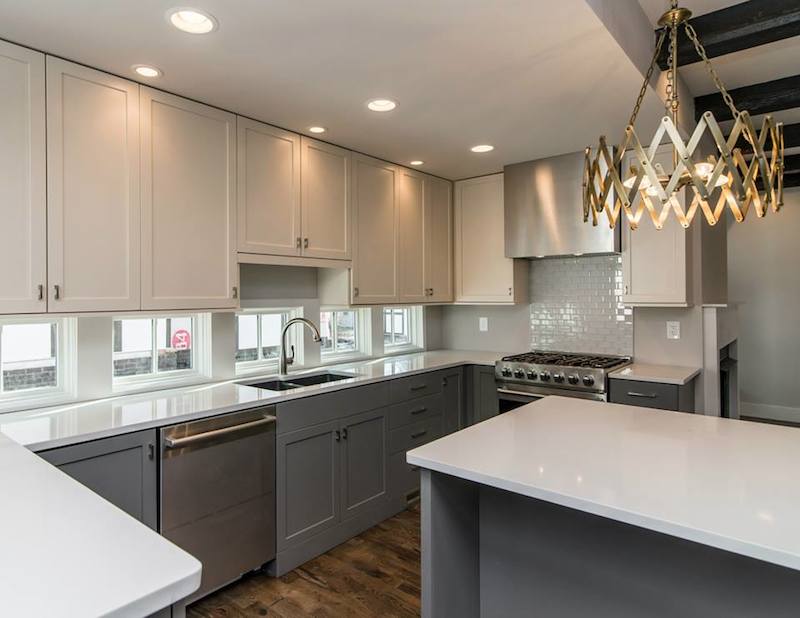 The windows: We tend to pay a lot of attention to the architectural impact of windows. There are a lot of good examples of that here, most dramatically in that vertical window in the family room. We also installed a casement window on an inside wall just above the bridge walkway, looking into the nursery. I love putting windows inside a house. We've done it several times. One thing we hadn't done before is to put windows in the kitchen right between the wall cabinet and the countertop.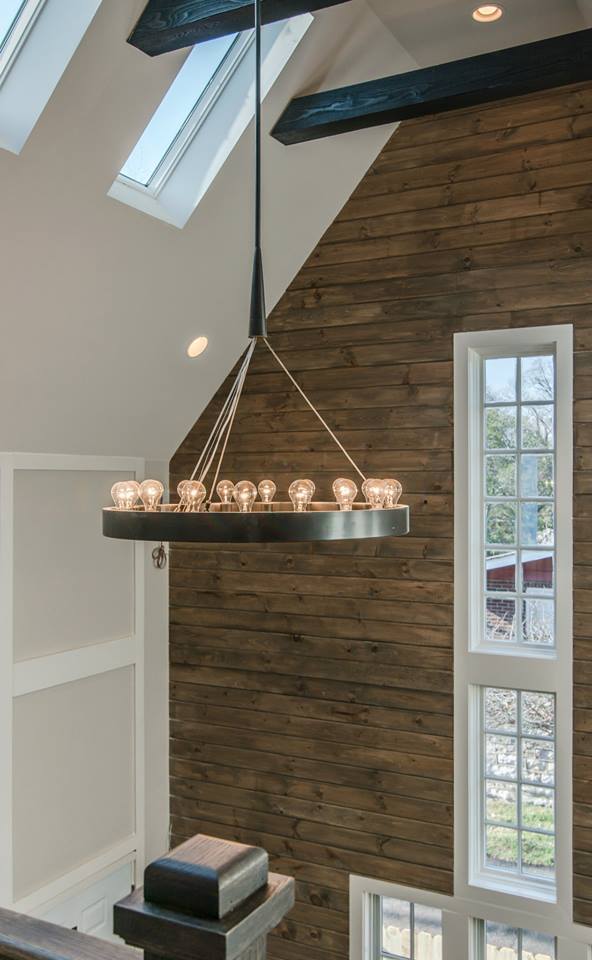 The big wood wall. It was important to the Williams' to incorporate natural elements like wood beams and wood walls, but we did so with a chic twist that won't soon be dated. "A lot of people are doing rustic reclaimed wood walls, but they're a little more shabby chic or beaten up than ours," says Ann. "I felt like that trend might be out after a certain amount of years, but Dee took that idea and image, streamlined it, and made it modern."
Two masters: This house is unique in that there's both an upstairs master bedroom and a downstairs master. "Many older homes in Nashville are redone so that there's an upstairs master, and the kids are downstairs," says Ann. "We weren't really comfortable with that concept so right now we're downstairs, but in the future we can always change that around." Ann loves having two masters, too, because when her family comes to visit from California they have a beautiful guest space with their own bathroom. "They feel really comfortable, which is important to me," she says.
Challenges Faced:
A due date. The Williams' put a contract on their house before they knew that they were pregnant with their first child, a daughter. "We thought maybe we'd move in and then have a baby," says Ann, "but we had no idea we'd be moving in with a two-week-old." To accommodate their impending new addition, we sped up the construction process as much as we possibly could. And even though it was stressful for the Williams to move into their new home with a newborn, Ann says it's the perfect place to wait out the winter doldrums with a babe in arms. "There's so much natural light. It's sort of an indoor/outdoor vibe so you don't feel like you're cooped up, which is great with a newborn because I am cooped up, but it doesn't feel like it."
The garage door. We've done garage doors well in living spaces many times before, but we'll admit the Williams' garage door, which opens from their family room to their back deck, didn't go over quite how we envisioned. We thought that, when opened, the door would just go straight up and stay flush with the wall, but it ended up being sort of cocked out. And because the hardware is really rough, they worried it would end up injuring their daughter. Says Ann, "We love the concept of the garage door, and once we open it up we're like, 'How can we not have this?!,' but the motor and hardware is just really obvious and it kind of takes away from the lighting and the windows." We've worked out a new design that involves a pair of French doors surrounded by windows. We'll have them installed in time for the 12South Home Tour.
The Happily Ever After: 
This house shares the same ingredients that most all of our homes do—exposed rafter tails, a steep roof pitch, wraparound porch, ceiling beams, and clipped ceilings upstairs—but this one came out of the oven especially delicious. In fact, this is probably my favorite home we've finished. It's striking. The scale of it fits the street, and it looks so happy with that red front door. Plus, the flow of it is great, revealing things to you as you go along. Our floor plans are pretty much open; we don't have a lot of wasted space with hallways. But that means there's a danger that you open the front door and immediately see the whole thing. The way we configure our homes we try to make it an experience. As you walk through this home it goes from a two-story space to a compressed space in the kitchen and then back up into a two-story space in the family room. It feels natural.
"Everything is out of the ordinary," says Ann. "I like to have something different than other people, and I really wanted that to be shown in our house—for our personalities to come through. … This isn't a home we'll be in for just a few years. We are planning a long stay here."
–Dee Bynum